Innovative Marketing Strategies: How Fashion Brands are Using 3D, AR, and Virtual Try-On Solutions to Stand Out in a Crowded Market
In a fashion industry landscape that offers consumers such an array of both on and offline choices, it has become increasingly challenging for brands to capture the attention of their target audiences and turn interested users into loyal, returning customers. In addition, as users have become more discerning, traditional marketing techniques are no longer as effective as they once were, prompting producers to seek new, unique (and yet more effective) marketing strategies to help them differentiate from their competitors.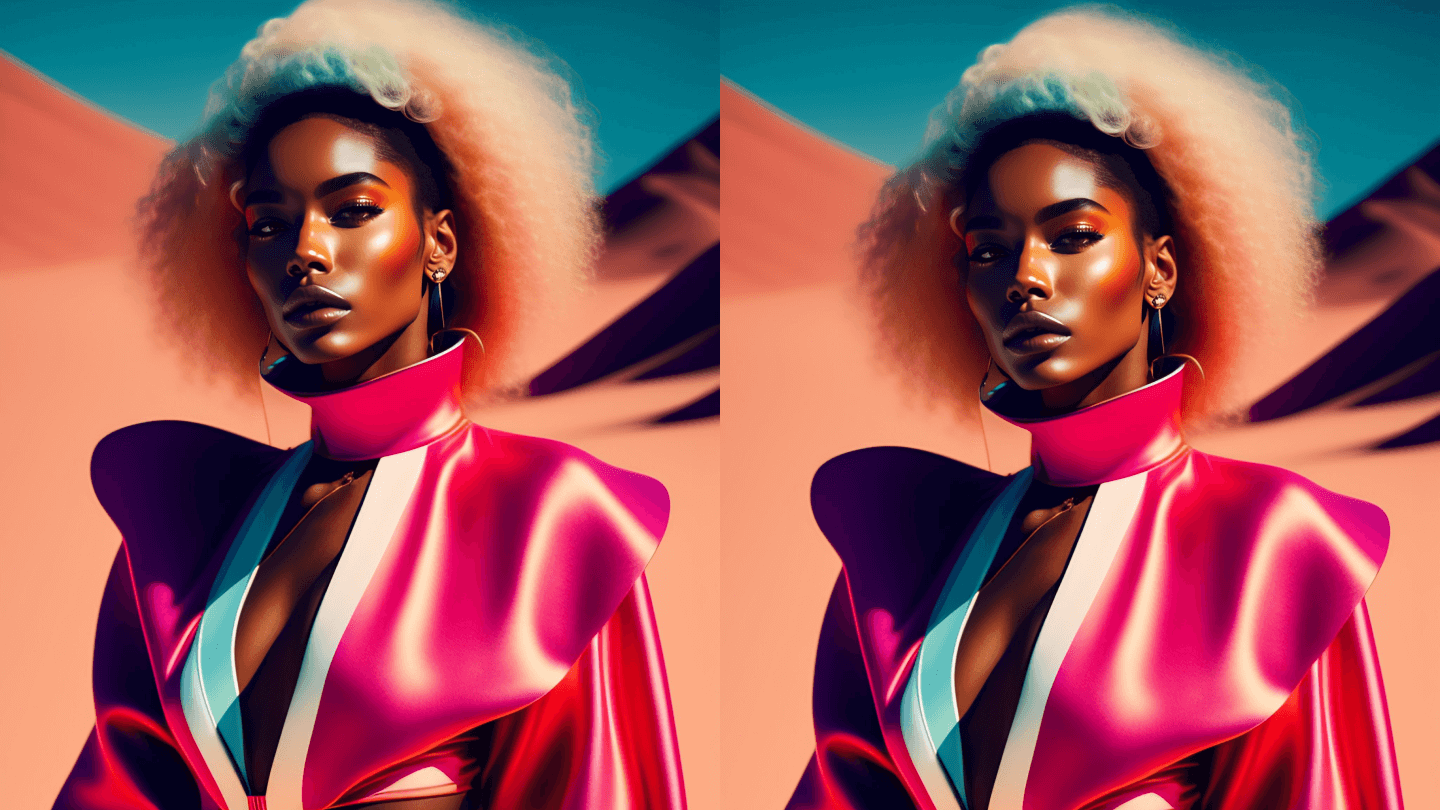 3D, AR, and virtual try-on solutions in the fashion industry
As the popularity of e-commerce sites grows evermore among general consumers and fashion fans alike, so also does the high-end tech that enables marketers to reflect the offline shopping experience in an online environment. From virtual try-on, AI fashion technology and 3D tracking tech, to the creation of highly realistic 3D modeling of tryable products, the online customer experience is changing. Online shopping is now more interactive, true-to-life, and enjoyable than ever before. By 2024, there will be over 1.4 billion users with AR devices.
Let's take a look at some of the key advancements in technology that we are expecting to come to the fore in the luxury fashion market.
Augmented reality virtual try-on technology for footwear, clothing and accessories
There is no denying that AR virtual try-on technology has already had an impressive impact on shopping for footwear, clothing and accessories online. And for some brands, it has already revolutionized their sales pathways. Assisted by this groundbreaking technology, customers may now clearly see how a particular piece of clothing, footwear or accessory will appear on them - without needing to physically try it on. Augmented reality virtual try-on solutions use computer-generated images and 3D modeling to overlay a virtual image over that of the customer, allowing them to see how the footwear, apparel, etc. fits them. This allows customers to authentically experience wearing the items before committing to buying or even leaving their homes. In Japan, two-thirds of consumers would like their offline stores to make AR 3D virtual try on experiences a viable option for their shopping experience.
A number of the high-end retailers who have already embraced AR virtual try-on technology include Italian luxury fashion brand Gucci which enables users to use VTO for sunglasses, sneakers, masks, lipsticks, and hats via its app; department store Kohl's with its Augmented Reality Virtual Closet in collaboration with Snapchat; French luxury fashion house Louis Vuitton with its AR Try-On function via its app; and iconic British brand Burberry with its Burberry Beauty Virtual Studio.
Fashion markets are being transformed by 3D, AR, and VTO, with luxury marketplace Farfetch leading the charge. Shoppers can try on shoes, watches, and 3D models of bags, all in a virtual environment, in an immersive, personalized online experience. This innovative approach is also helping consumers make better buying decisions, meaning that the retailers enjoy increased customer satisfaction and receive fewer returns, and is redefining how people are shopping for fashion and accessory items. 40% of consumers are happy to pay more for a product if they can experience it and customize using AR.
Physically-based rendering for creating accurate 3D models of products
Physically based rendering (PBR) is an approach which creates highly realistic copies of products as 3D models, using computer graphics. By simulating the visual properties of materials and light sources, PBR can create exact representations of how items would appear in real-life scenarios and is especially effective with fashion and accessories. This technique takes into account factors such as texture, reflectivity, the roughness of materials, and also the angle and intensity of light sources. By using PBR, fashion designers and marketers can showcase in virtual environments that closely resemble real-world situations, facilitating better visualization and decision-making for consumers.
Virtual try-on technology for jewelry, such as watches, bracelets, rings, and earrings
Aside from clothing and shoe brands, others who have benefited from the technological advances brought about by VTO technology include the jewelry industry, which has also been transformed by AR, 3D, and other VTO technologies. Accessory fashion houses can now enable their customers to virtually try on photorealistic digital replicas of watches, rings, bracelets, and earrings, before making the decision to buy. By using AR technology in fashion tech to superimpose a digital image of the jewelry onto the customer's hand or wrist in real time, luxury jewelers can offer customers the opportunity to view their unique pieces of jewelry from different angles and in different lighting conditions. And by helping consumers to interact with products in such an entirely unique way, this technology allows them to make better buying decisions.
Rolex and Omega are just two of the leading luxury watch brands to successfully employ this technology, with users invited to virtually try on luxury watches via Chrono24's virtual showroom. Luxury diamond retailer De Beers has also utilized 3D tracking tech to promote its Forevermark diamond brand. The London-based jewelers used AR to enable visitors to try on rings, necklaces, and bracelets. When the user moved their head or their hand, the 3D jewelry moved too, in a naturalistic and authentic way.
Improvement of digital marketing strategies
In a recently published report by Business of Fashion, titled "State of Fashion 2023", new light was cast onto the rapidly evolving digital marketing landscape. To summarize, it reported on the new rules of marketing, explaining that consumer targeting has become a more complex and costly endeavor, in the last few years especially. The report concluded that fashion brands today must pioneer new, unchartered waters and get even more creative with new, inventive marketing campaigns to ensure superior ROI. This will involve pursuing the influences of retail media networks, as well as the metaverse, as well as making the most of their first-party data to strengthen their customer relationships. As digital marketing has become less efficient (thanks, in large part, to privacy regulations and new technological innovation), fashion brands are now having to spend over three times more to acquire each new customer, when compared to spending of a decade ago. This shift towards new marketing strategies, such as retail media networks, is indicative of the brands' adaptation to this new world. Customer data capture, however, remains the top priority, and the best of these new strategies are designed to create opportunities for customers to willingly hand over their personal information (albeit usually in exchange for perks, such as tailored recommendations). Despite this, however, to excel in digital marketing, fashion brands need to tackle three crucial questions:
1. How can you minimize spending while increasing brand awareness?
2. How can you assist customers to make well-informed decisions during the consideration and purchase phases of their journey?
3. How can you infuse innovation and personalization into the customer journey to foster loyalty and distinction?
By embracing virtual storytelling and immersive experiences, such as Virtual Try-On, brands can now effectively address these questions throughout the entire marketing funnel.
For example — at the awareness stage of the customer journey, over 50% of luxury consumers are now drawn to brands that offer augmented reality (AR) experiences, and this results in a staggering 300% surge in new user acquisition, the re-engagement of inactive users, and amplified campaign interactions.
Meanwhile, during the consideration phase, over half of AR shoppers (55%) prefer to browse catalogs and select their favorites through AR and Virtual Try-On interaction. As a result, these brands experience a 22% increase in engagement, up to 5x growth in average session duration, and a 20% improvement in overall customer experience.
It is also worth noting that at the purchase stage, a remarkable 75% of users are happy to pay a premium for items experienced via AR technology. As well as this, AR buying experiences account for a 25% drop in returned goods, and provide fashion retail with a 4% GTV boost, expedited purchasing, full-price sales, and a 9% reduction in return rates. Running alongside these observations, it has also been noted that customer engagement soars to four times its previous levels, and average online basket size grows by approx. 15%. These results are attributed to shoppers investing more time on the website and delving into all the available virtual options.
Finally, at the loyalty stage, crafting personalized experiences can both turbocharge virality and strengthen customer allegiance, setting the stage for future growth and sales.
Advantages to retailers of using 3D, AR, and virtual try-on solutions
From enhancing the customer experience with immersive product interactions, to the cost savings enabled by fewer returns, let us now explore the host of advantages that using 3D, AR, and virtual try-on solutions in fashion can bring about for luxury retailers.
Virtual try-on (VTO) and 3D solutions are no longer optional for luxury brands, as they are now totally a part of the essential fashion digital marketing strategy toolkit. These cutting-edge technologies enhance the customer experience both online and offline, providing a far more immersive and personalized shopping journey than previously available, while at the same time catering for the varied discerning tastes of luxury consumers.
Typically, with offline marketing communications, VTO is accessed via QR codes, with customers simply scanning the codes using a smartphone or other device. This then gives them instant access to a virtual fitting room, where, they can try on the various luxury items as offered by the brand. This innovative, user-friendly approach bridges the gap between the physical and digital shopping experience, and entices potential buyers to engage much more with the brand and explore its products.
Online marketing, however, can also benefit from VTO technology. Customers browsing websites can access digital fitting rooms directly (or use QR codes on their desktop) to try on virtual products of the luxury brands. This seamless integration of VTO into the online shopping experience succeeds in two ways: firstly, it fosters a deeper connection with the brand and secondly, it encourages the consumer and gives them more confidence in their purchasing decisions.
Another powerful tool - the 3D viewer - is used for both online and offline marketing situations. 3D viewers are used to showcase high-quality luxury items, and allows customers to examine them in detail from multiple, even infinite, angles. This level of interactivity enhances the shopping experience and provides customers with a more comprehensive understanding of the products that they are considering. In some cases, depending on the article being explored, they can even see inside.
In this way, virtual try-on and 3D solutions are revolutionizing the marketing strategies of many luxury brands. By incorporating these technologies into both their online and offline marketing communication, these brands are now offering a far more engaging and personalized shopping experience - and one that appeals to the sophisticated expectations of the modern luxury consumer.
The future of fashion
The future of fashion is likely to be shaped by new technologies such as 3D, AR, and other virtual try-on solutions, changing consumer preferences, as well as the growing focus on sustainability. The AR market is a rapidly growing industry with an estimated market value of $50 billion by 2024.
Sustainability
Consumers are becoming increasingly aware of the environmental and social impacts of the fashion industry, and are demanding more sustainable and ethical practices from brands. This is leading to a shift towards more sustainable materials, such as recycled or organic cotton, as well as more transparent and ethical supply chains. Brands will need to use technology such as digital product passports to prove the journey taken by each garment or accessory, adopt methodologies such as circular textiles, and embrace second-hand and rental wear on their e-commerce sites in order to meet the consumer demand for sustainable fashion. And as we have already seen, AR, 3D, and virtual try-on technologies will be playing an important role in enabling the reduction of both consumer and business-produced carbon emissions which heavily impact the environment.
Personalization and customization
There is likely to be a continued focus on personalization and customization going forward as consumers, particularly younger generations, increasingly look to their clothing, footwear, and accessories to express their individual identities and beliefs. Here, fashion tech again comes to the fore, with AR and 3D technologies enabling consumers to see how different styles, colors, and sizes would suit them before making a purchase decision.. Customers can also pair different luxury pieces with as many of their existing looks as they want, which couldn't be done in-store.
Enhanced realism and precision
Both augmented reality (AR) and artificial intelligence (AI) technologies are still evolving, and as they do, virtual try-on experiences will continue to become more lifelike and accurate. In other words, they will seem increasingly more real life. This will propagate more use of the technologies, and people will more easily be able to visualize how a fashion item fits them, how it looks, and importantly how it makes them feel. This, in turn, leads to more frequent and better purchasing choices and lower return rates.
Pioneering virtual fashion events
Fashion is a pioneer of trends - and the fashion industry is now pioneering the trend of using VR technology in new ways. Fashion shows themselves are being reinvented, with many houses now experimenting with virtual shows. Smart use of virtual try-on technology is enabling customers to attend these virtual shows, engaging with the new collections in innovative new ways, and even getting to "try-on" the items themselves.
Social media synergy
And as social media strengthens its grip on the digital landscape, virtual try-on experiences are increasingly integrating with these platforms. Users have the ability to share their virtual fashion items online, involving their friends and even influencing buying decisions amongst their peers. By moving the virtual try-on experience onto social media, fashion brands are successfully increasing engagement with their customers, in contradiction to some of the early predictions about the medium alienating the public. Clever use of AR and virtual technology is paying off and proving its worth with increased ROI.
E-commerce, online shopping, and social shopping
The rise of e-commerce and digital technology is likely to continue to shape the future of fashion. Online shopping is already a major part of the fashion industry, and the growth of mobile and social media platforms is likely to only reinforce this trend. This could lead to new business models and distribution channels, as well as new opportunities for marketing and branding. E-commerce platforms will increasingly deliver immersive shopping experiences to customers, by incorporating virtual try-on features as standard. By exploiting this new digital tech to enable consumers to gain confidence in their purchases, sales will be increased. Augmented reality is already proving popular with brand collaborations between social media sites and fashion houses. Such fashion technology enables marketers to become ever more creative and innovative with their online campaigns.
Virtual spaces
Brands are constantly looking for new ways to market their goods and services whilst maintaining the projection of their exclusivity and uniqueness, and the recent moves towards new and inventive digital experiences is a major part of this drive. Virtual spaces have proven themselves to be key in elevating these new marketing strategies of luxury brands.
One example is Balenciaga, who used VR to debut their new collection in a game-type setting, allowing viewers to engage with the brand in completely new and exciting ways.
It is innovative new experiences such as these that are now being used to create personalized, memorable connections between consumers and their favourite brands. The result of these innovations is twofold – first, they dramatically improve brand engagement, and secondly, they increase customer loyalty.
Even more important – virtual spaces such as these create new opportunities for analytics and for data collection, thus providing the luxury brands with invaluable insights into their customers' behaviours and preferences. Data is the most important asset in marketing – and this approach opens up countless new ways to present to consumers, based on preferred experiences and more predictable behaviour patterns.
How do WANNA solutions work in fashion retail?
WANNA is a fashion industry expert and a partner to luxury brands in digital fashion transformation. Under the umbrella of the FARFETCH Group, we have digitized several thousand SKUs and enhanced the customer experience with our proprietary 3D and AR technology. As a 3D-savvy company, WANNA guides brands through their digital journey, deploying state-of-the-art 3D and virtual try-on experiences to boost business performance throughout the entire fashion value chain.
Here is how you can use WANNA virtual try-on in marketing:
Integration in the app/website.
By integrating virtual try-on (VTO) technology into your app or website, you will significantly elevate your UX. This one advantage alone makes incorporating VTO essential to your future marketing strategies. One way this can be done is by using VTO screenshots, or videos, for your App Preview in app stores. Simply by doing this, you will capture the attention of potential new users browsing apps, demonstrate the cutting-edge functionality your app offers, encourage higher numbers of downloads and set yourself apart from your competition.
Additionally, incorporating VTO screenshots or videos on your website's homepage can emphasize the innovative shopping experience your platform provides. Visually representing the VTO technology will pique the interest of site visitors, prompting them to explore further and engage more with your brand. In addition, using VTO footage in your user acquisition creatives can not only boost your marketing results, but also attract new customers who are enticed by the unique and immersive experience offered by virtual try-on technology. This strategic approach ensures that you maximize the potential of VTO integration, driving both user engagement and sales growth.
Reuse of 3D assets for other platforms
3D assets are infinitely reusable - they can easily be repurposed in many different settings and campaigns, and across various platforms and applications. 3D assets can be used in promotional media, including digital ads, social media posts, and email marketing, to create visually appealing and engaging content that captures audience's attention.
Product documentation: Find ways to capitalize on the benefits of 3D visuals in your user guides, manuals, assembly instructions, etc, to make it easier for customers to clearly follow step-by-step, as well as more easily understand how to maintain or even use for product.
Training and education: 3D assets can be leveraged for employee onboarding and training, as well as for other educational purposes. They enable a better understanding of product features, assembly processes, and more.
Trade shows and presentations: Displaying 3D assets at trade shows, conferences, or sales presentations to showcase products will engage potential clients in a more interactive and attractive manner.
Advertising content
Taking advantage of the true power of 3D, AR and Virtual Try-On tech, Facebook and Instagram have developed a suite of tools which are based on this new approach to consumer engagement. Their 3D posts feature now allows luxury brands to upload 3D interactive models of their products for users to play with. This includes the abilities to rotate and zoom for close inspection, and essentially handle a product as they would in a physical store. These impressive new options have already proved their worth for products such as furniture, technology and clothing, all of them products where a detailed inspection can heavily influence purchasing outcomes.
And as for AR? Well, Instagram has now integrated AR filters into its platform alongside other impressive shopping features – which fashion brands are all over. High-end brands with products such as sunglasses, hats and jewelry are heavily leveraging these features to make their customer shopping experience far more personalized and interactive. The result of this is that Instagram is now a highly-effective platform for luxury brand selling, giving such brands creative opportunities to offer their customers fully immersive and customizable experiences.
Final thoughts
The use of 3D, AR, and virtual try-on solutions to differentiate marketing strategies is the result of many years of evolution within the industry. These technologies are now allowing fashion houses to reach new audiences, as well as to develop long-lasting consumer-brand relationships, in a way that was simply not possible before. Specifically:
If you would like to explore how this groundbreaking new tech could enhance your digital fashion marketing strategy, using 3D, AR and virtual try-on solutions, then talk to WANNA.
WANNA is partnering with luxury fashion brands around the globe. The first step is just to talk and discover more about the options that are available. There are numerous solutions available, and finding the best fit for you comes through conversation and exploring.
To find out more about partnering with pioneering fashion 3D and virtual try-on tech today, leave your inquiry and WANNA will get in touch.