The Perfect Fit: Exploring the Impact of AR Virtual Try-Ons on the Decision-Making Process for Watch Purchasers
The luxury watch industry has always been synonymous with innovation, from the early days of mechanical timekeeping to the more recent smartwatch trend. And as technologies continue to develop, so the watch market adapts to stay relevant and cater to the evolving needs of the modern consumer. One such example is the adoption of Augmented Reality (AR) technology for virtual try-ons, which has significantly impacted the decision-making processes of watch purchasers. Here, we will delve deeper into its benefits, why luxury brands were among the first to adopt virtual try-on technology for watches, why brands should invest in fashion technologies, the impact of Gen Z and the future implications of AR virtual try-ons on the luxury watch industry.
Why business should invest in fashion watch technologies?
Deciding whether AR technology is a good fit for your own marketing needs requires careful thought – but there is one important factor to consider when making this decision.
While watch brands often invest heavily in product innovations to stand out from the competition, they can also benefit from improving the customer journey and the digital customer experience
Brands testify that AR watch try-on technology creates great marketing potential.
In highly competitive markets, such as luxury goods, customers are naturally presented with a seemingly limitless range of choices, and competition is fierce; USPs are a vital element of success in such a marketplace.
Virtual try-on as a marketing tool works so well because the marketing process itself is the attraction — it creates an engaging, personal buying experience directly on the customer's mobile device. In real terms, this means that consumers connect with the product in a very personal way. And experiences such as these are very appealing to customers.
Not that product innovation is unimportant – it is essential, of course, for brands to grow and develop their range. But the attraction of AR try-on technology is that it can convert browsers into buyers, and should be seriously considered by all who can utilise its enormous potential.
By giving customers the chance to virtually try on watches, businesses can ride the wave of the ever-growing reliance on technology and online browsing in today's consumer culture. This handy tech allows customers to explore various watches and styles from the coziness of their homes, making it easier for brands to reach potential buyers.
The luxury watch market is undergoing significant changes, with a slower growth rate of just 1% - 3% predicted each year between 2020 and 2025, suggesting structural weaknesses in the short to medium term. With approximately $2.4 billion in revenue projected to transfer from retailers to watchmakers due to the increasing prominence of direct-to-consumer business models, luxury watch brands must adapt to these shifting market dynamics. Investing in virtual try-on technology for watches is essential for brands to thrive in this changing landscape, as companies adopt more aggressive omnichannel-powered eCommerce strategies and upscale their digital communication platforms. With online sales in the first-hand market expected to rise from 5% in 2019 to 11% by 2025, embracing virtual try-on technology can help luxury watch brands provide an enhanced shopping experience, attract more customers, and secure a competitive edge in an increasingly digital world.
Farfetch, a luxury fashion retailer, has revolutionised its customers' shopping experience by launching a Virtual Try-On (VTO) feature for an exclusive selection of fine watches. This cutting-edge technology allows customers to enjoy the physical store experience right from their devices. The VTO feature is easily accessible from various points in the customer journey: from the 'Start Virtual Try-On' button on their homepage, on product listings, and on all detail pages. This simple button enables users to virtually try on the products using their device camera. They can then share the images on social media, view additional product information, or add items directly to their shopping bag or wishlist.
This innovative approach demonstrably works and has garnered impressive results. Over the course of a 14-week analysis period, Farfetch saw a 47% increase in site visits to watches equipped with watches virtual try-on functionality, compared to watches of a similar price point without virtual try-on. Products featuring virtual try-on are called out on search results pages. Add-to-bag increased by 22%, and add-to-wish list increased by 81%.
Moreover, the marketing effect of introducing virtual try-on technology for watches goes beyond just attracting new customers. By providing an engaging and interactive experience, this technology fosters brand loyalty. Satisfied customers are more likely to recommend the brand to their friends and family, generating positive word-of-mouth marketing and ultimately boosting the brand's reputation. By investing in virtual try-on technology, businesses can create a lasting marketing impact that drives sales and strengthens their position in the market.
How AR Watch Try On Technology Benefits Customers
Luxury brands were among the first to adopt virtual try-on technology for watches due to the unique challenges and opportunities presented by their high-end market segment. One of the main reasons for this early adoption was their emphasis on creating a personalised and exclusive shopping experience for their discerning clientele. Virtual try-on technology offers an innovative way for luxury brands to provide a customised and immersive experience, and showcase their exquisite timepieces in a manner that appeals to the sophisticated tastes of their target audience.
Another reason luxury brands were quick to embrace virtual try-on technology for watches was the high price point of their products. Customers who are considering a significant investment in a luxury watch often desire a more comprehensive understanding of the product before visiting the boutique.. Virtual try-on technology allows customers to explore the intricate details of timepieces and visualise how they would look on their wrist, instilling confidence in their buying decision. By offering this feature, luxury brands can effectively address the concerns of their customers and justify the premium price of their timepieces.
Several luxury watch brands have embraced virtual try-on technology to enhance the customer experience and showcase their exquisite timepieces. Brands such as IWC Schaffhausen, Audemars Piguet, Apple Watch and others have integrated this cutting-edge technology. IWC, known for its fine Swiss craftsmanship and timeless designs, has incorporated virtual try-on solutions to help customers explore their extensive collection of watches and find the perfect fit for their wrists.
Luxury brands have always been at the forefront of innovation and trendsetting and remain so to this day - and they do it with good reason. By adopting virtual try-on technology early, these brands mentioned above demonstrated their commitment to embracing cutting-edge technology and staying ahead of the curve. This not only reinforced their image as industry leaders but also differentiated them from their competitors in an ever-increasingly crowded market. The use of virtual try-on technology for watches by luxury brands serves as a testament to their dedication to innovation and their ongoing pursuit of delivering unparalleled customer experiences.
How Brands Can Drive Sales with AR Watch Virtual Try On
So, what are the real benefits of AR technology and why do brands need it?
Virtual try-on technology has become increasingly popular among Gen Z consumers due to its ability to deliver a personalised and engaging shopping experience. This section of the population values customisation and unique interactions, which AR try-on technology delivers in abundance, enabling them to virtually try on many different products before making a purchase. By incorporating virtual try-on features, brands can effectively cater to the preferences of Gen Z and stand out from their competitors.
A study by Bain & Company and the Altagamma Foundation, an association of Italian luxury brands, reveals that Generation Z is developing an early affinity for luxury goods. The spending of Gen Z is predicted to grow at a rate triple that of other generations by 2030.
During the Watches and Wonders 2023 trade fair in Geneva, where 48 luxury brands such as Rolex, Cartier, and Patek Philippe presented their newest designs, Swiss watchmakers were cognizant of this trend. A display area with a focus on innovation showcased an app that allows users to virtually try on watches using a smartphone or tablet.
According to Bain consultants, Generation Z is positioned to receive a significant wealth transfer over the next two decades, estimated to amount to over US$80 trillion only in the United States by 2045.
At WANNA, we develop sustainability-focused technologies, such as 3D and virtual try-on technology, which help reduce wasted travels: by allowing customers to see how watches look on them and explore them from every angle before travel to stores. By offering virtual try-on technology, luxury brands can reduce the need for extra travels and the associated emissions. We are proud to report that 95% of the brands using our tools have experienced a positive impact on their sustainability metrics, and our partners have observed significant reductions in return rates (9-10%).
Leading companies, such as Kering, LVMH, and Richemont, have also embraced virtual reality showrooms and exhibitions. This approach provides environmental benefits, as buyers and fashion professionals can reduce extra travel to trade shows by experiencing them virtually instead.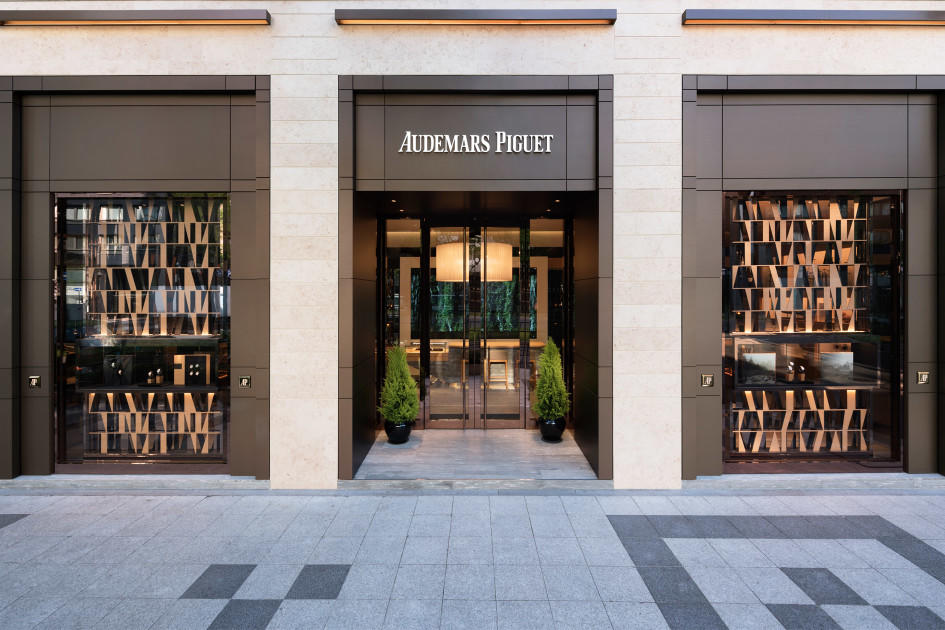 In addition to its benefits for online shopping, virtual try-on technology can also attract new customers to physical stores by offering a "try-before-you-buy" experience. This innovative feature entices consumers to visit brick-and-mortar locations where they can then further explore the brand's offerings and enjoy an enhanced shopping experience.
Furthermore, this technology allows customers to virtually try on products even if they are out of stock in the physical store, ensuring that they have access to the full range of items. This is because the technology can simulate the product on the customer's body or face, allowing them to see how it would look on them without actually having the physical product available.
This is particularly useful in situations where customers are looking for specific model that may not be available in-store.
By using virtual try-on technology, customers can still get a sense of what the product would look like on them and make an informed buying decision, even before they step into the store.
How does WANNA AR Watch Technology work?
Choosing WANNA as the virtual try-on solution for watches provides companies with a best-in-class experience that sets them apart from their competitors. WANNA's technology offers a seamless and immersive user experience that effectively replicates the sensation of trying on watches in person. By leveraging the capabilities of this advanced solution, businesses can captivate their customers and enhance their overall shopping experience, giving them increased customer satisfaction and brand loyalty.
Despite the advancements in AR technology, certain limitations can affect the accuracy and realism of the virtual try-on experience. Factors such as lighting conditions, device compatibility, and image quality can all impact the user's experience. Watch brands and developers need to invest in enhancing the realism and precision of the technology to ensure customers can fully trust the virtual experience and make well-informed decisions. The state-of-the-art image quality offered by WANNA's virtual try-on technology is second to none. This superior visual quality ensures that customers can accurately visualise how different watches will look on their wrist, making it easier for them to make positive purchasing decisions. The high-resolution images and realistic rendering, provided by WANNA, contribute to a more engaging and enjoyable user experience that keeps customers coming back for more.
Dedicated customer support is another critical advantage of choosing WANNA for virtual try-on solutions. Companies can rely on the expertise and assistance of WANNA's support team to address any issues or concerns that may arise during the implementation or operation of the virtual try-on technology. This commitment to customer satisfaction ensures that businesses can confidently adopt WANNA's solution and provide the best possible experience for their customers.
WANNA also boasts a team of 3D content creation and optimisation experts and ensures that companies have access to top-notch 3D virtual technology models of their watches. These experts work closely with businesses to create accurate and detailed 3D representations of their products, which are then optimized for the virtual try-on platform. This attention to detail results in a highly realistic and immersive experience that leaves a lasting impression on users.
Choosing WANNA for virtual try-on technology comes with a major perk - its super easy implementation process. The WANNA team is committed to making sure their solution integrates smoothly and effortlessly. This fuss-free approach means companies can quickly and efficiently add the virtual try-on feature to their websites and applications, making it an appealing option for big businesses.
Conclusion
Virtual try-on technology in AR watches has significantly enhanced the customer experience in watch shopping by allowing them to visualize how a watch looks on their wrist before visiting a boutique. This feature adds value to the buying process, making it more engaging and satisfying for customers.
With continued advancements in AR technology, virtual try-on is set to become an increasingly important tool for watchmakers and retailers looking to provide a seamless and immersive shopping AR watch virtual try-on experience.
Try Web Demo